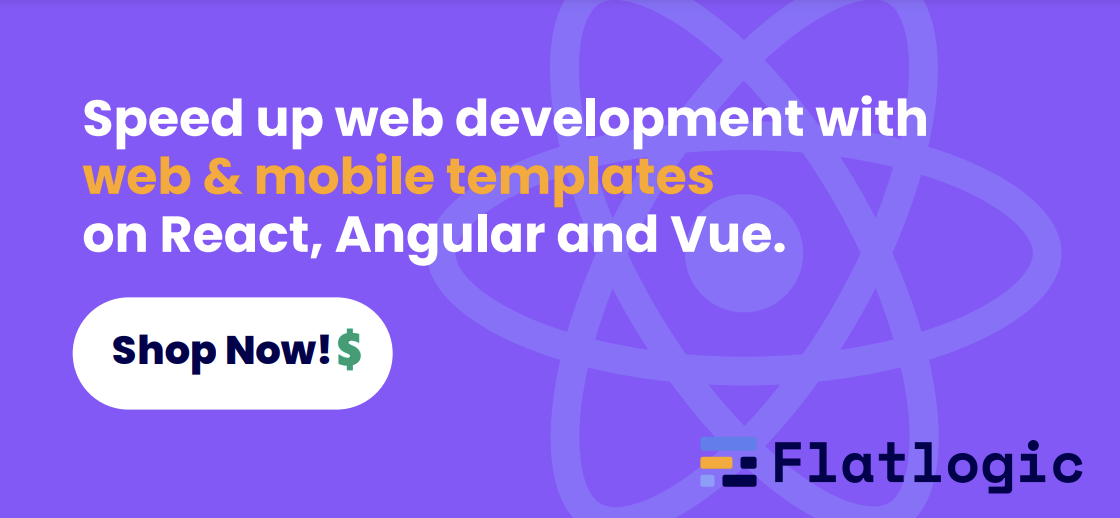 Top 15 No-code Platforms To Scale Your Business in 2023
January 24, 2023
The rise of digital transformation came with the need for businesses to automate and implement quickly if they ever want to scale and compete in the market. However, many businesses struggle with the technical expertise and costs required to do this efficiently. The solution: no-code platforms. With no-code platforms, companies can innovate quickly without waiting on a select few people to implement their solutions.
According to Gartner's Magic Quadrant report for enterprise low-code application platforms, 65% of application development activities will be done by no-code app development platforms in 2024. In this article, we will explore 15 of the top no-code platforms that can help businesses scale in 2023. These platforms have user-friendly interfaces that make it easy for non-technical members to customize them for their needs.. We will also explore the features and pricing of each platform.
What is no-code?
No-code means creating and building software, websites, and apps without coding experience or knowledge. This is achieved through visual drag-and-drop interfaces, pre-built templates, and other user-friendly features that allow users to create and launch their projects without knowing how to code.
What are no-code platforms?
No-code platforms provide the necessary features to create and build software, websites, and apps without coding. They range from website builders to automation software to app development platforms. They are designed to be user-friendly and easy to use, making them accessible to many users, regardless of their coding experience.
No-code app development platforms
Flatlogic Platform
Flatlogic is a no-code app development platform that allows users to quickly and easily create full-stack web apps without writing any code. It has customizable templates and a drag-and-drop interface that makes it easy for anyone to build an app. With Flatlogic, users can generate full-stack database-based apps using React, Vue, and Angular in three steps – select your stack and template, connect to Github, and deploy your app in minutes.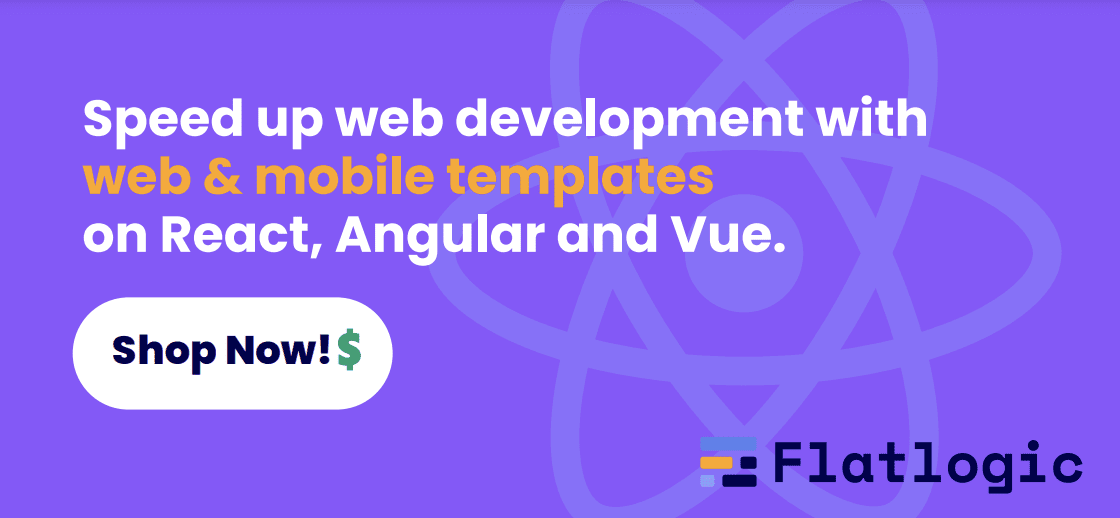 Flatlogic also offers a fully-documented REST API for creating Headless CMSs, making it simple to perform everyday data operations such as Create, Read, Update, and Delete. With Flatlogic, businesses, entrepreneurs, and individuals can save time and money by creating full-fledged web apps without extensive technical knowledge.
Key Features
Creates full-stack apps that are connected to a database and backend using React, Vue, and Angular.
Easy connection to Github for app deployment
Pricing: Flatlogic offers an annual subscription that saves up to 37% compared to a monthly subscription.
The individual plan is priced at $299.00 per app/year, making it a cost-effective solution for small projects and MVPs.
The Professional plan is priced at $2,990.00/year, perfect for agencies and professional developers. It includes everything from the Individual Plan and allows unlimited applications, all front-end options (React, Angular, Vue), all backend-end options (Node.js, Laravel), and all database options (PostgreSQL, MySQL).
The Enterprise plan is adjustable to your business needs and comes with a dedicated account manager.
With its per-application pricing, Flatlogic is an excellent option for anyone looking to create a web app quickly and without extensive technical knowledge.
Adalo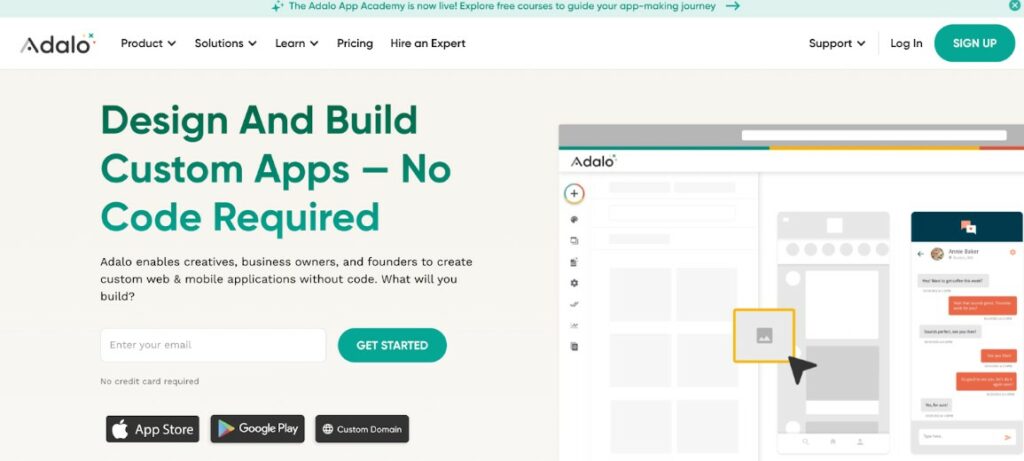 Adalo is a no-code app development platform that enables users to create custom web and mobile applications without code. It has a built-in database that allows users to easily manage their content and develop relationships, toggle visibility settings, or explore integrations for unmatched complexity and power.
Adalo also makes publishing apps to any app store or custom domain easy. Toggle publishing settings to run iOS and Android builds or instantly push updates to your custom web domain.
Adalo also offers monetization, scaling, and growth tools with a built-in analytics dashboard to keep you growing and iterating in the directions that matter. It also makes it easy to connect your app with thousands of third-party apps and services through APIs to build more intelligent and powerful custom software.
Key Features
Customize your app with your own branding.
Built-in database for content management.
Easily publish your app to the iOS or Android app stores.
Pricing: Adalo offers five pricing plans:
Free: $0 per month/billed annually
Starter: $36 per month/billed annually
Professional: $52 per month/billed annually
Team: $160 per month/billed annually
Business: $200 per month/billed annually
Adalo enables users to create custom web and mobile apps without writing code, with easy publishing options, a built-in database, analytics, and integrations for a complete solution for creating, managing, and scaling your custom software.
Bubble
Bubble is a powerful no-code platform for creating digital products such as CRMs, SaaS apps, and dashboards. The platform offers complete functionality without the need for any code, allowing users to create multi-user apps for desktop and mobile web browsers, with features similar to apps like Facebook or Airbnb. Bubble also offers a range of design options, with no need for knowledge of HTML or CSS and robust, scalable infrastructure that handles deployment and hosting for you.
Key Features
Responsive, pixel-perfect designs and layout.
Real-time collaboration.
Plug-ins to connect analytics, email marketing, SEO, and payment tools.
Pricing: Bubble offers five pricing plans:
Free: includes core platform features and bubble branding.
Personal ($29/month): includes core platform + API and custom domain.
Professional ($129/month): includes three units of server capacity, two application editors, and two development versions.
Production ($529/month): includes ten units of server capacity, 15 application editors, and 20 development versions.
Custom: includes a dedicated server, configuration, and hosting region choice.
Bubble is a no-code platform for creating digital products with a full range of features and customization options, robust, scalable infrastructure, and a dedicated learning platform. It is an excellent option for those who want to create complex apps without coding.
Code2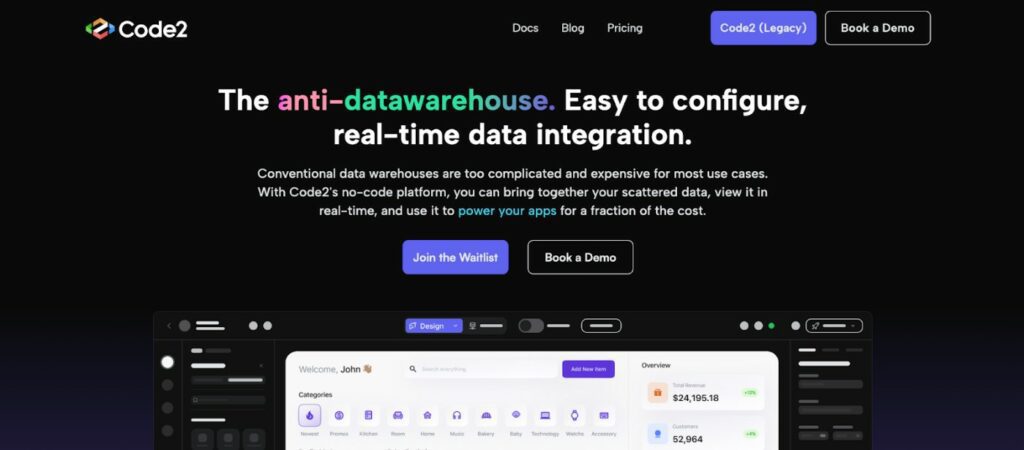 Code2 is a no-code platform for easy data integration and real-time data consolidation. It allows you to bring together scattered data, view it in real-time, and use it to power your apps without the complexity and expense of conventional data warehouses. The platform enables you to easily connect to your data, regardless of where it resides, such as Hubspot, Shopify, Stripe, or other databases, and merge different sources into a single, all-encompassing data source.
Code2 also allows you to automate repetitive tasks with smart workflows, simplifying your back-end and front-end actions, providing users with an integrated end-user experience, and creating triggers for UI and data, scheduled batch jobs, and user behavior. This allows your team to focus on value-creating activities and improve productivity.
Key Features
Automate trigger responses to user behavior.
Ready-made UI blocks and app templates.
Easily connects to multiple databases.
Pricing: Code2 offers four pricing plans: Free, Lite, Standard, and Pro, priced at $0, $14, $49, and $139, respectively. The pricing increases with the number of features and functionalities offered.
The platform's real-time data integration and consolidation capabilities and smart workflows can improve your team's productivity and efficiency. The pricing plans are also very reasonable, making it accessible to all types of users.
No-code analytics platforms
Narrative BI
Narrative BI is a powerful no-code analytics platform to help growth teams turn their data into meaningful narratives. It provides valuable insights from marketing and advertising data automatically and makes it easy to connect all your data sources in one place. With the ability to integrate with Google Ads, Facebook Ads, and Google Analytics, Narrative BI is perfect for businesses of all sizes.
One of the standout features of Narrative BI is its ability to scale with your business. Its no-code automated marketing reporting platform for agencies is perfect for tracking multiple marketing campaigns at once and automating reporting for all your clients. You can generate automatic reports in minutes and speed up your agency's reporting process. With the ability to schedule reports to be delivered to clients daily, weekly, or monthly and intelligent insights in a single click, Narrative BI is an excellent option for agencies of all sizes.
Key Features
Integrates with GA4, Universal Analytics, Google Ads, and Facebook Ads.
24/7 coverage for easy anomaly detection.
Automated reports delivered on schedule via email or Slack.
Pricing: Narrative BI has four pricing plans:
Free: integration with Universal Analytics and GA4, 100k monthly sessions, daily data syncs, two users, one workspace, and one data source.
Pro ($90/month): includes Facebook Ads and Google Ads integration, 1M monthly sessions, data syncs every 6 hours, five users, and 3 data sources.
Growth ($490/month): includes custom metrics and dimensions, roles and permissions, 10M monthly sessions, data syncs every 4 hours, 25 users, five workspaces, and 15 data sources.
Enterprise (custom pricing): unlimited users, data sources, and workspaces, unlimited monthly sessions, and hourly data syncs.
Narrative BI is a great solution for businesses and agencies looking for a powerful, no-code analytics platform that provides valuable insights, effortless integration, and easy scalability. Its pricing options can cater to a wide range of needs, from small businesses to large enterprise-level companies looking to streamline their data analysis and reporting process and gain valuable insights from their marketing and advertising data.
Funnel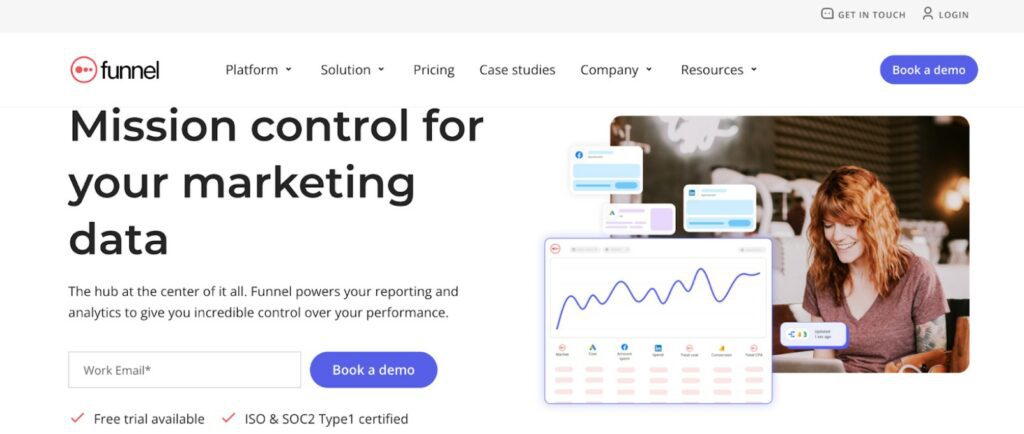 Funnel is a powerful marketing data hub that provides performance control. The platform is designed for modern, data-driven marketers who want to unlock their potential and focus on improving their marketing efforts.
It defines marketing effectiveness, optimizes your spending, and provides faster and more accurate reporting. The platform also provides an omnichannel overview, giving you a clear picture of your acquisition and activation data from any marketing apps or platforms.
Funnel also makes it easy to share insights with your team. You can easily share data and insights through a dashboard, spreadsheet, warehouse, or another destination.
Key Features
Automatically updated reports.
Connects to over 500 marketing data sources.
Automated data sharing to Looker, Tableau, and other data destinations.
Pricing: Funnel's pricing is based on two main categories for Marketers and Agencies and is billed annually.
Essentials: starts at €359/month, perfect for small teams familiar with data collection.
Plus: starts at €899/month and includes access to a custom connectors program, guided onboarding, and premium chat support.
Enterprise: starts at €1799/month, best for large teams that require robust support, security, and scalability.
Agency Small: starts at €359/month, best for small agencies who prefer self-service.
Agency Medium: starts at €899/month, best for most independent agencies.
Agency Large: starts at €1799/month, best for large agencies.
It is an ideal solution for global enterprises that want to avoid wasted marketing spend, excessive resource requirements, and data quality issues. With the platform, you can give every team a secure single source of truth without the overhead of a traditional data stack.
Corraldata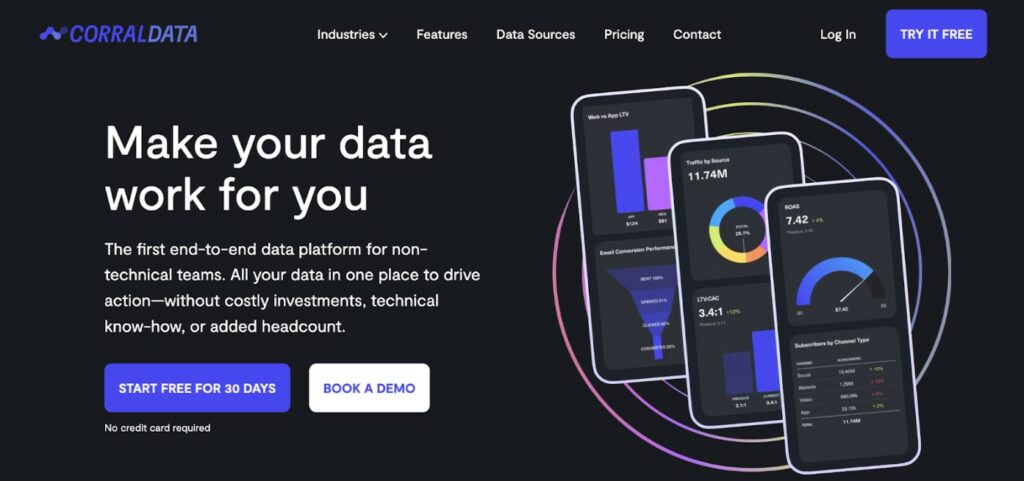 Corraldata is a powerful data platform designed for non-technical teams. The platform provides full-service integration and powerful built-in tools for business users, allowing you to connect everything from spreadsheets to ERP platforms in one place. With more than 200 out-of-the-box integrations and advanced support for custom integrations, Corraldata is a comprehensive solution that provides a single source of truth for all your data.
Key Features
Pre-built analytics dashboards for easy customization.
Built-in collaboration and chat features.
Multiple custom integrations.
Pricing: The platform offers three pricing plans. Each plan has a 30-day free trial.
Essential: $150/month per data source.
Teams: $250/month per data source.
Enterprise: It's custom pricing; you need to contact them for more information.
Its comprehensive suite of tools and integrations makes it easy for anyone to turn data into action. The platform's pricing options are also flexible, making it an accessible solution for businesses of all sizes.
No-code marketing platforms
Marketo
https://www.marketo.com/adobe-experience-cloud/
Adobe Marketo Engage is a marketing automation platform that helps businesses connect with customers and keep them engaged. It offers a wide range of tools and integrations, making it easy for companies to create personalized content and deliver it at the right time, every time.
One of the standout features of Marketo Engage is its ability to personalize user experiences, from emails to landing pages, even for anonymous visitors. It uses in-depth profiles, real-time behavioral and demographic data, and AI to create personalized content tailored to each customer.
It also offers advanced marketing analytics, multi-touch attribution, and tools that connect sales and marketing data, allowing businesses to quickly see the effectiveness of each piece of content and how well their customer journeys are working. With the ability to get a holistic picture of the entire customer journey from the first interaction to conversion, businesses can make more informed decisions and improve their marketing efforts.
Key Features
Predictive audience building and segmentation using AI
Built in intelligence for account-based marketing
Cross-channel marketing
Pricing: Marketo Engage's pricing is not disclosed; you need to contact them for more information.
Getresponse
GetResponse is an all-in-one marketing solution that enables businesses to simplify their email campaigns, website creation, and marketing automation. The platform is designed to assist companies in establishing their online presence and expanding their customer base.
GetResponse has lead-generation tools that allow businesses to find new customers and grow their email lists through targeted and effective communication. The platform also provides a means for companies to engage with and retain their existing customers through tailored online interactions. Additionally, GetResponse offers e-commerce-specific features that help businesses increase their online sales by providing personalized experiences to their website visitors.
Key Features
Predictive audience building and segmentation using AI
Built in intelligence for account-based marketing
Cross-channel marketing
Pricing: GetResponse has three pricing plans:
Free: This plan contains everything you need for the basics, including email marketing, landing pages, and sign-up forms, and can connect up to 500 contacts.
Paid: Lowest plan starts at $13.30/month and includes premium features like marketing automation, segmentation, live chats, and e-commerce features.
Max2: A custom-made solution with unique features and custom pricing.
Overall, it's a valuable option for companies looking to expand their online presence and customer base.
Proof
Proof is a website conversion optimization tool that helps businesses increase website conversions by up to 15% in under 15 minutes. The platform is designed to make customer-obsessed marketing easy and effective. With Proof, businesses can make their website more human and engaging, leading to better customer experiences and higher conversion rates.
One of the key features of Proof is Hot Streaks, which shows the total number of people who have recently taken action on a business's website. This is great for high-traffic pages such as content opt-ins, webinar registrations, and free-trial pages, as it helps build credibility and trust with potential customers.
Another feature is Live Visitor Count, which displays the number of people viewing a page or the entire website. This is useful for creating scarcity on pages with limited inventory, such as physical product, booking, and event ticket sales pages.
Key Features
Easy to set up on your website.
A/B testing to track conversion.
Integrates with Zapier to send conversion events from your CMS.
Pricing: Proof's pricing is based on the number of monthly visitors.
– Basic (0 to 1k): $29/month
– Pro (1k+ to 10k): $79/month
– Business (10k+ to 50k): $129/month
– Premium (50k+ to 100k): $199/month
– Platinum (100k+ to 300k): $299/month
– Enterprise (> 300k): Custom pricing
Its suite of conversion optimization features can help businesses build credibility, create scarcity, and boost customer confidence, leading to higher conversion rates.
No-code automation platforms
Zapier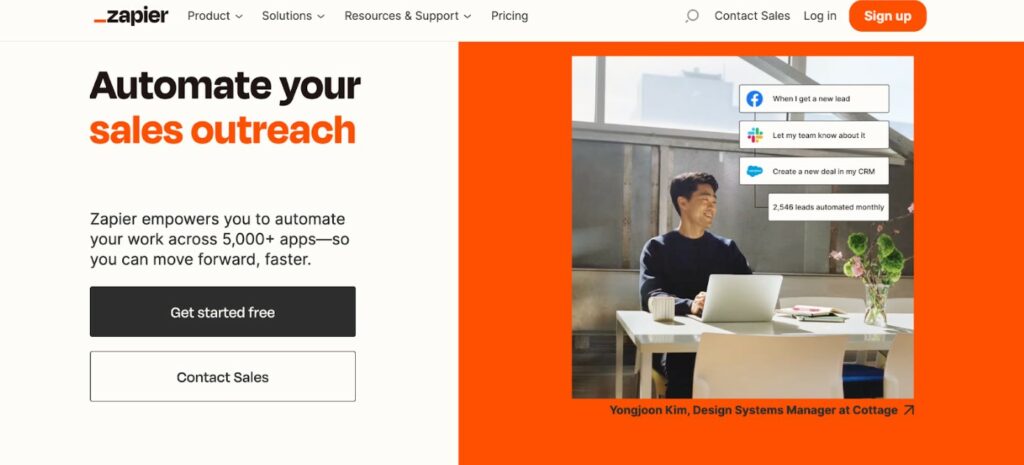 Zapier is an all-around automation platform that allows users to automate anything, including lead flow, sales outreach, contracts, team updates, and even to-do lists. Zapier is a platform that connects work apps and streamlines business operations.
It helps businesses manage their entire funnel and empowers them to serve their organization better. From side hustlers to enterprise leaders, Zapier enables individuals and teams to focus on the bigger picture by automating repetitive and time-consuming tasks. It supports over 5,000 apps, providing infinite possibilities to connect the tools businesses use today and in the future.
Key Features
Easy to set up.
Customized logical workflows for a range of actions..
Over 5,000 automation possibilities.
Pricing: Zapier offers several pricing plans that cater to different needs.
Free: 100 tasks/month.
Starter ($29.99/month): 750 tasks per month.
Professional ($73.50/month): 2,000 tasks per month.
Team ($598.50/month): 50,000 tasks per month.
Company ($1198.50): for organizations that want automation with robust security features and oversight capabilities.
In conclusion, Zapier is a powerful automation platform that can help businesses of all sizes streamline their operations and manage their entire funnel.
Parabola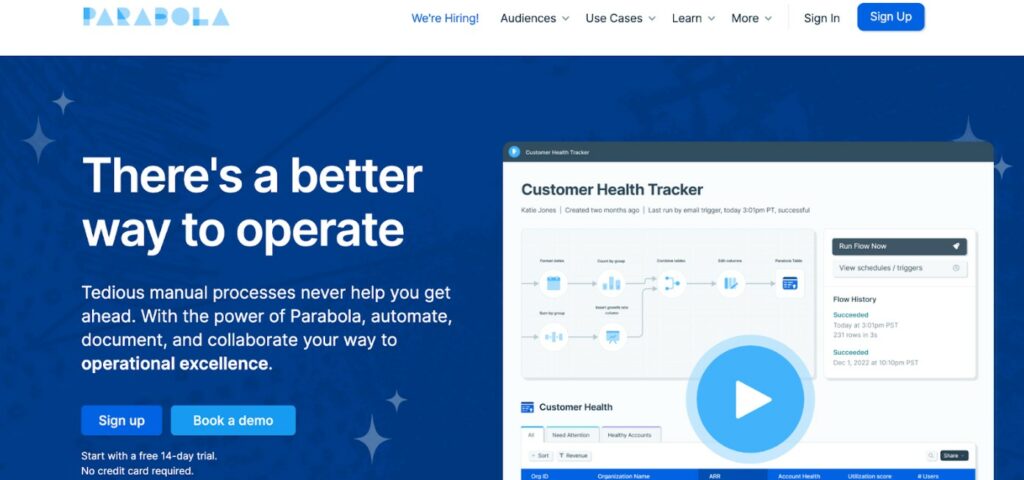 Parabola is a tool that helps businesses automate, document, and collaborate their processes to achieve operational excellence. It's designed for businesses with unique, complex, and ever-changing workflows and for people who are experts at their processes rather than writing code. Additionally, it's beneficial for teams that want to unblock the engineering queue and scale efficiently.
Key Features
Integrates with Shopify for ecommerce automation workflows.
Multiple API integrations to unify your workflow.
SOC 2 Type II compliant
Pricing: The platform offers three pricing plans.
Basic: free
Plus: $80
Advanced: contact sales for custom pricing.
The pricing plans are flexible and allow businesses of different sizes to access the tool. It's an excellent option for companies looking to achieve operational excellence.
No-code web development platforms
Webflow
Webflow is a robust website design and development tool that empowers designers and teams to create, collaborate, and scale beautiful websites in a visual canvas without coding. With Webflow, you can build any website you can imagine with the full power of HTML, CSS, and JavaScript in a visual canvas. With over 3.5 million users, Webflow is one of the most popular website-building tools on the market.
Key Features
Pricing: Webflow offers a variety of pricing plans to suit different needs and budgets.
Starter: Free
Basic: $14/month billed yearly.
CMS: $23/month, billed yearly.
Business: $39/month, billed yearly
Enterprise: contact sales
Elementor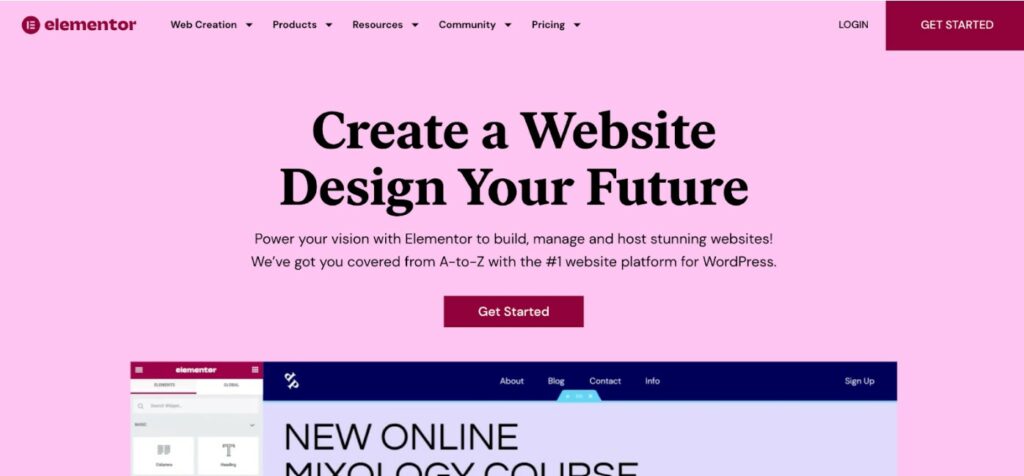 Elementor is the ultimate website-building tool for WordPress users. With its powerful drag-and-drop editor, you can easily create stunning websites without the need for any coding. The platform offers a variety of widgets, including more than 100 full website designs based on the Hello Theme. With Elementor, you can choose from an extensive library of pre-designed website designs that are ready to use and easily customizable to suit your needs.
In addition to its robust design capabilities, Elementor also offers world-class hosting powered by Google, ensuring that your website will perform at its best. With Elementor, you can manage your entire website's design system, including global colors and fonts, to create a consistent web experience.
Key Features
Built-in hosting powered by Google.
Full website design kits.
Available in multiple languages.
Pricing: For a one-time payment of $99 per year, you can access the full suite of Elementor's features, including the Theme, Editor, and Hosting.
With Elementor, you can easily build, manage, and host stunning websites, making it the #1 website platform for WordPress users.
Carrd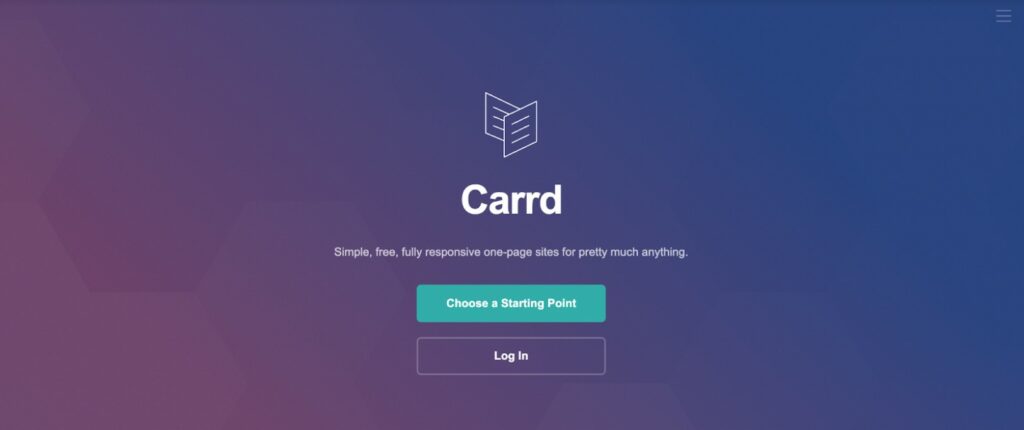 The Pro plan gives you access to exclusive features such as custom domains, forms, Google Analytics tracking, widgets for third-party services like payment gateways, and the ability to publish more than three sites.
Key Features
Very simple platform.
Integrates with multiple email marketing platforms.
Easy-to-edit, responsive templates.
Pricing: Carrd is free for up to 3 sites, making it the perfect choice for anyone who wants to create a website without breaking the bank. Carrd offers an optional Go Pro upgrade for just $19/year for those looking to add more features.
Carrd's pricing structure is straightforward, making it accessible for anyone looking to create a website with ease.
Conclusion
No-code platforms have revolutionized the way businesses and individuals approach technology and development. With the right one, anyone can create and launch a website or app or automate marketing tasks without knowing how to code. Whether you're a business owner, marketer, or just someone looking to create a new project, these platforms can make your life easier and help you achieve your goals.